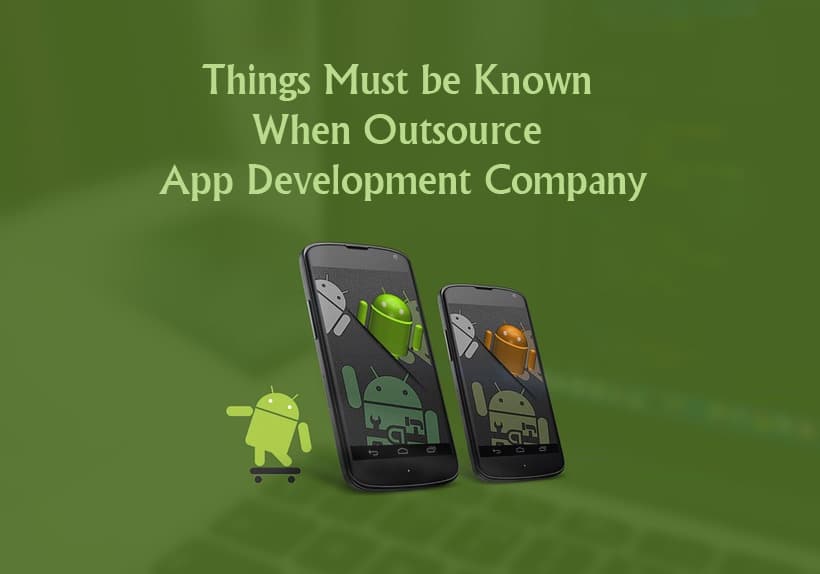 In the modern world, mobile apps are making our life easier and demand for mobile applications is increasing rapidly. So if you are also finding the appropriate app development company then you will have to think deeply about it and also will have to do research work for it because there are a lot of challenges as well as demands in this field. The funding, as well as deliveries, are major challenges. You should always choose an experienced or highly-skilled app development team who can fulfil your requirement. You can carry out the discussion according to your need with them and finalize them if their information is satisfactory.
The outsourcing of a mobile app development company is essential for several reasons with their support of them you can shorten the time to market, reduce the project costs, as well as boost the quality of your product these are some major reasons why more than 50% of IT companies have outsourced software development team at least once in their journey many companies providing multiple services like progressive web apps, web, mobile and mern full stack development. App development companies play a vital role in the success of your application. If you are going to outsource the company then you have to be aware of some points several company members can claim you to save money, or they can promise you to put your app on the frontline and the top search via SEO, but not all of them will be trustworthy. So you have to be aware of all of these issues and check their history and client satisfaction rates properly.
There are multiple factors you should consider when you are outsourcing an iOS app development company. In this article, we are going to share our experience with you on how to select an appropriate mobile app development outsourcing company. Here are some following points on which you must focus:
Ask for Portfolio
You can ask for the portfolio from your developer if you are going to hire a third party for your mobile application development. It can give you a rough idea about their working procedure and on which things they have worked or you will come to know about their experience. A portfolio given by the company will support you to know everything about the company like their skills and expertise, their client satisfaction rate, Customer feedback, and all the major things about them.
Have a Personalized Communication
You can try to establish personalized communication with the team after selecting the appropriate team for your application development. This will support you to discuss your ideas as well as outline the application more efficiently. You can do a little bit of research from yourself about the different kinds of techniques that are generally used in app development then you will be able to confidentially discuss with them their skills and it will also make effective your communication.
This will assure a meaningful talk. Since you have the alternative you can choose any developer from the world but you will have to be aware of the time zone variations because it is important if you want to do a conversation with them.
Through communication, you will also be able to know their work procedure and it creates a healthy connection between you and your developer. After All, if you are completely satisfied with their work and responses so you can finalize the deal. This will support you to get a robust app from their side.
Check Experience
It is fact that an experienced organization can understand your requirements in a much better way. Apart from this, the app developer should be aware of the possible challenges o issues that generally appears at the time of app development procedure and must have the expertise to tackle all kinds of challenges efficiently. Through all the factors you will be able to check their skills as well as experiences in the working field.
Security of the App Idea
The Leaking of your unique application idea as well as the concept is a major threat to organizations and entrepreneurs today. In the modern world, several poor-quality replicas hit the app stores before the genuine and original ones and it happens just because of the weak security measures followed by mobile app development companies.
All Companies and entrepreneurs need to keep in mind that the IT company they are selecting for their enterprise application design and development must follow several strict security measures. The app concept and ideas should completely be confidential before it launches at the app stores. The Development Company should always be ready to sign a non-disclosure agreement without any hesitation to ensure the security of the application idea and concept.
Ensure your budget:
The development of the application depends on the budget. The budget for outsourcing mobile app development teams may be different from country to country or agency to agency which are situated in different time zones. Hiring a Ukrainian development team will cost less than in the UK or Poland, but the result will be equal. For instance, the budget to outsource an application Development Company in India might start from $20 to $80 per hour while on other hand, while in the US this rate can vary from $90 to $150 per hour.
You can also go for the exquisite agency if you sufficient budget to manage their expenses.
An estimated cost from an app cost calculator for outsourcing this kind of app development organization is around $20K. Within this budget, you will get the developer team along with the testers' team, as well as other miscellaneous expenses being handled.
Effective Delivery Management
Several organizations and businesses complain that the development company didn't give them the progress report on the mobile application development lifecycle and just because of this lots of time client do not satisfy with the final product. Even in some scenarios, it is told by the customer that the final mobile application is not relevant according to their requirements. This kind of issue generally happens because of the communication gap between the customer and their Development Company.
So companies need to keep their customers posted with every single detail related to the progress of their product because it is very important for effective and flawless mobile app development. If the team keeps regular conversations on development progress with their clients so it also ensures the timely delivery of the final product. Each app development company must be following effective delivery management service guidelines.
Post-launch support:
If your application has been launched and you also have started to work on it and after that, if you face any issue or bug in your app then this may affect the popularity of your application. Therefore you have to choose that company which also provides after-launch support because sometimes it may be very necessary. They will be easily able to resolve any project-related issues or even support you in containing more advanced product features if required. It will be more beneficial if you will work with the same outsourcing agency throughout the project. You have to keep this point in mind and sort it out with the development companies before finalizing a deal. If you do this then you will not feel any regret in the future related to your application.
Conclusion
Lots of times many people struggle to find a good match for a mobile app development company that can fulfil their requirements and several times companies could not understand in a good manner about the need of their clients. If you are facing difficulties to find the right match for your app development so you must try Groovy Web at least once. This company has already given a boost to lots of popular IT brands. They have a dedicated team for the , pwa, web application, iOS, android, and mern stack app development which understands very well the requirements of their clients.