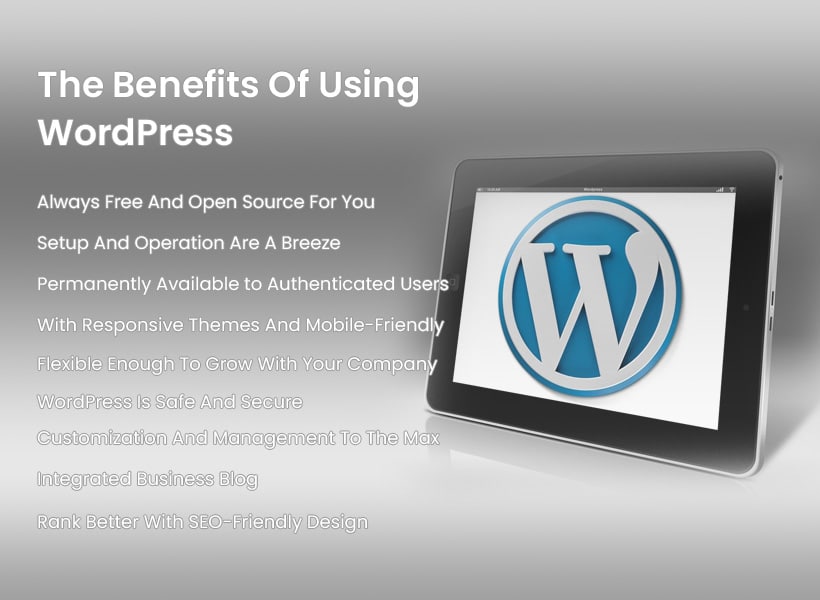 Over 25% of all websites run on WordPress, making it the platform of choice for many major corporations including Disney, Time Inc., Sony, and CNN. Although it started as a blogging platform, WordPress's flexibility and extensibility have made it the most popular CMS on the web, and it's now widely used to create websites for businesses of all stripes.
WordPress was created in 2003 to democratize online publishing for professional and amateur web designers. It's a collection of free and open-source code files that make up the foundation of a website; while expert designers can modify a WordPress site with a single line of code. Non-technical users can use the platform's other two core components, themes, and plugins, to create fully functional websites without touching the code.
WordPress may be used to create anything from a simple personal blog to a massive enterprise website with a wide range of features and access for many people. The proprietor of a WordPress site that is self-hosted has complete editorial freedom.
A WordPress site can adapt to the ever-changing needs of your company because of its adaptability, scalability, and general adaptability. Consider these primary advantages of employing WordPress for commercial websites.
Competitors Vs. WordPress
WordPress is one of the three most popular website-creation tools utilized today. Wix, Shopify, Joomla, Magento, and many more are alternative well-liked CMS options.
Both Joomla and Drupal necessitate some expertise in HTML, CSS, and the scripting language PHP. Subscription fees on Shopify and Magento are typically higher, as is the expense of ongoing development.
The most advanced WordPress users can get by without ever touching the code.
The Benefits Of Using WordPress
Always Free And Open Source For You

Aside from the cost of a domain name and hosting, WordPress makes it possible for small and large business owners on a tight budget to create and manage a website with nothing more than free WordPress themes and plugins.

Installing WordPress is as simple as downloading it from WordPress.org and uploading it to your hosting service, or using the site-building tools provided by your hosting provider.

To further customize their sites and add necessary niche-specific functionality, WordPress users may access thousands of free themes and plugins in the program's included directories. In order to build and administer their sites, more sophisticated firms can either engage a development team or pay a small fee for premium WordPress themes and plugins.

Setup And Operation Are A Breeze

To get a site up and operating quickly, WordPress allows "one-click" installation and little customization for its target audience of bloggers and publishers who are unlikely to have extensive coding skills.

Once installed, WordPress allows for simple control of site settings and content via an intuitive dashboard. The core WordPress files can be edited directly by users with development skills or by hired professionals, but a WordPress site can be managed without touching the core code at all.

Permanently Available to Authenticated Users

Multiple people can contribute to and update a WordPress site from any computer or mobile device. WordPress sites can be viewed from any device with the right credentials because they are "self-hosted" with a hosting provider of your choosing. This facilitates users' ability to work on the site from afar and collaborate with others as needed.

With Responsive Themes And Mobile-Friendly

Now, more people use their mobile devices to conduct internet research and make purchases than use their desktop computers. A business that wants to remain competitive must ensure that its website is mobile-friendly, meaning that it can be viewed and navigated effectively on any device.

WordPress offers mobile-responsive themes and a wide range of free and premium plugins that may be used to add responsive design features to a non-responsive theme, allowing for the development of mobile-optimized versions of business websites.

Flexible Enough To Grow With Your Company

WordPress may have begun as a blogging platform, but it has now expanded to accommodate essentially any type of website. Websites built with WordPress and its plethora of plugins and business-oriented themes are as varied as the businesses that use them.

WordPress themes are essentially skins that may be applied to the core WordPress code to alter its visual style and layout. In addition to the thousands of themes available for free and for a fee in the WordPress theme directory, many more are available for purchase from independent designers and may be added to any WordPress site.

WordPress business plugins, like the numerous available themes, both free and paid, can be used to augment a site with additional, often essential, capabilities. Installing and activating these snippets of code on a WordPress site allows the site to be customized to better meet the demands of its owner.

Plugins can be used for a wide variety of purposes, including but not limited to building a completely online business, integrating payment gateways, and administering mailing lists.

There are more than 50,000 plugins listed in the WordPress plugin directory, and others can be purchased from independent developers all around the world, just like WordPress themes.

WordPress Is Safe And Secure

WordPress is a very secure platform for running a website because it is built with security as a primary focus during development.

Nonetheless, there is much more that can be done to fortify your website's defenses against malicious actors. See our beginner's guide to WordPress security for more information.

There are a lot of tips to secure and save your WordPress website such as WPBeginner relies on Sucuri to prevent malicious software and brute force attacks. If you use WordPress, you can install Sucuri Scanner, a free plugin they offer to check for security flaws. Your website can be protected by SSL encryption, securing your WordPress admin area, or by installing Security plugins.

Customization And Management To The Max

Websites that are hosted are restricted to whatever features the hosting service offers, and if the host goes out of business, the websites go offline. WordPress, on the other hand, stands on its own and includes all the core features of a fully functional CMS, granting its users full authority over the appearance, performance, and accessibility of their sites.

Because users have complete control over their sites, WordPress sites may be completely tailored to the specific requirements of every individual business, without ever leaving the WordPress interface. Site creation and maintenance can be handled in-house or by contracted developers and IT professionals, at the business owner's discretion.

Integrated Business Blog

When launching a content marketing strategy for your business, an active, content-rich blog can be an invaluable asset. WordPress's focus on blogging from the start means that it has everything needed to promote a company's mission and display its products through a blog.

The WordPress Post and Page text editor contain everything you need to write and format posts, add media, and distribute them across the web.

These features facilitate collaborative content creation, review, search engine optimization, and distribution across many social media platforms.

Keeping a WordPress business blog up-to-date and manageable is a breeze thanks to the numerous blogging-related plugins available for the platform and the dedicated WordPress business themes that are available.

Rank Better With SEO-Friendly Design

WordPress sites are easy for search engines like Google to crawl and index, which can improve the site's visibility and thus the company's search engine rankings.

WordPress makes it simple to optimize every part of a website with features like mobile responsive themes and plugins that offer search engine optimization (SEO) capabilities for every page and post.
Bonus Advantages That WordPress Offers
Multiple Languages Support

You can develop websites in multiple languages with built-in multilingual support in WordPress. Businesses and organizations that cater to a global audience or multilingual communities would benefit from this.

Cost-Effective

WordPress does not cost anything to use because it is open-source and free. In addition, you may find many useful plugins and themes that won't cost you a dime.

Controlling Ownership

When using WordPress, you are the sole owner of the content and design of your site. You are free to use your server or use a third-party hosting service. Compared to website hosting services like Wix or Shopify, you have more freedom and control here.

Capabilities For Online Shopping

WordPress provides powerful e-commerce solutions with plugins like WooCommerce, even if platforms like Shopify and Magento are built from the ground up for e-commerce.

Scalability

WordPress's flexibility means that it can grow with your business. High-traffic websites, big content databases, and intricate features may all be handled without slowing down the system. Because of its scalability, it may be used for both tiny personal blogs and massive enterprise websites.
Final Thoughts
We've tried to provide you with enough information to make up your mind about whether or not WordPress is right for your business. WordPress is the backbone for millions of business websites around the world.
Since it's free and open source, you can develop a site that can scale with your business and take advantage of the expertise of the vast WordPress user community.