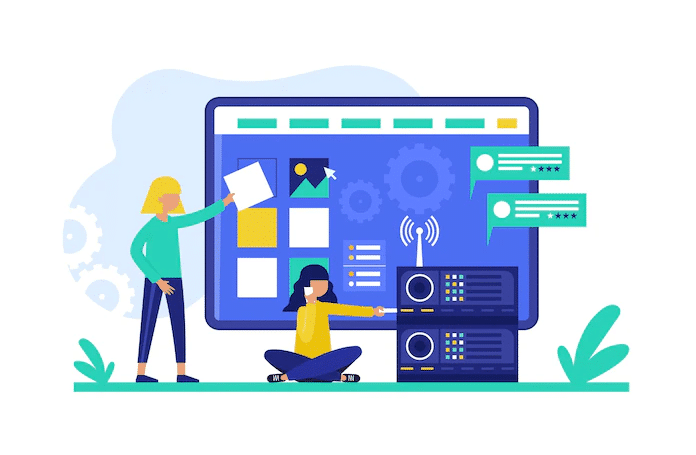 It is quite important to build a website with proper navigation because it helps your visitors to easily surf and see different pages of the site. Based on better navigation, they can have a good user experience which will ultimately help to convert them at the later stages.
A lot of times, web designers do not know how to build their websites with a correct navigation system. In this article, we will discuss about it in detail, so that you can know what type of practices should be used to improve any website's navigation.
Let's quickly jump into the important do's and don'ts related to web navigation defined below.
4 Important Do's to Improve Website Navigation

To improve the navigation of your website, there are four key things you should consider to implement today. Let's take a quick look at them below.
Simplify the Front Page

While designing a website, it is important to keep things simple. A lot of times, people do not understand this little fact that carries huge importance. They usually design the front page with a lot of graphical content that makes the overall appearance a bit cluttered.

As per the basic web design principles, it is best advised to keep things simple on the front page. The reason is that if they will face difficulty in understanding the basic content on the main page, then they'll quickly leave the site within just a few minutes. So, try to bring simplicity to the front page, as it could prove to be key in gaining visitors' interest.

Add a Call to Action

Adding a call to action button in the header could also work in your favor to improve website navigation. This is a tried and tested technique that encourages visitors to go on the sales or any other page where you want to convert them. These call to actions are usually placed in the form of banners, as they look more professional to get their attention.

The content on the CTA banner or button is termed very important. Its messaging plays a key role in attracting customers, hence it should be written very smartly. Ideally, your call to action should have a conversational tone, as that precisely helps to increase user engagement effectively.

Adopt a Canonical Structure

A canonical structure is termed more efficient to keep track of different website pages. It is a technique in which you name the pages by particular titles or keywords, so that they could be easily remembered. Not just for humans, but the latest search engine algorithms also recommend this practice because it makes the pages easily trackable.

By naming the pages with proper keywords, you let the visitor as well as the search engine know what the page is all about. This will offer a proper understanding that will eventually improve navigation as well. The search engine bots also give priority to such pages that are properly defined, so it is best advised to start implementing this technique from today.

Use Anchor Links for Navigation

By putting navigational links in between the content, you can encourage people to visit other pages as well. This is a very creative technique that needs to be done smartly. The navigational links can be placed on important anchor words used in between the content. These anchors should be used wisely, as they should also look natural in the sentence.

Besides that, if you want to let the users know which links have been visited, you can change their colors in the content. It is best recommended to use light colors for such links, as it will make them easily distinguishable in the content.
4 Important Don'ts to Remember

Many times, web designers do not pay attention to those things that precisely bring a negative impact on website navigation. If you are also unaware of them, take a look at the don'ts defined below.
Don't Use Drop Down Menu

Drop-down menus are now becoming a thing of the past. As per the latest software development trends, they are not recommended for any application because these menus often bring confusion in the minds of people. It could confuse them in terms of giving two multiple options to click. This is a scenario in which the user becomes undecided and leaves the site without clicking anything.

Therefore, it is recommended to keep the menu simple and short. It looks neat to the eye that helps users to easily move on to the other pages without getting confused. This technique is also recommended for mobile apps, as people also face a lot of confusion while looking at their tiny menus.

Don't Let the Internal Links Open in New Tab

It looks very awkward when your internal website links open up on a new tab. This practice should not be followed and must be immediately stopped as it disrupts the interest of the visitors. This is an outdated practice that was earlier used when the importance of website navigation was not properly known.

When the link is opened on a new tab, the interest of users that are reading the content will get divided into two halves. They will shift their focus from one page to another without making any decision. It is therefore advised to avoid it and direct all internal links to open up on the same tab.

Don't Show Too Much Pop-ups

Using pop-up boxes is a good practice to take visitors to other pages. However, using this practice excessively on web pages can also give inverse results. People can get irritated if they will see the same pop-up box appearing again and again on every window. As a result, they could leave the site by having an impression of a bad user experience.

So, try to use pop-up boxes in a certain way that it does not frustrate your visitors. You can place them specifically on those pages that are sales oriented or created to offer special discounts. This way, you can get a perfect balance to showcase pop-ups only on particular pages.

Don't Clutter the Front Page with Too Much Content

Using engaging content is important to convert customers, but showcasing them in an excessive manner on the front page is also not a good practice. It can affect the cleanliness of the web page, making everything look complicated. This cluttering should be avoided at all costs, and content should be used with a proper balance.

Those pages that are designed with a lot of graphical and textual content only confuse the incoming visitors. It does not let them focus on the main point, as multiple things are inappropriately shown to them on the front page. So, try to avoid this immature design practice, as it could only reduce your chances of retaining visitors on the website.
Final Words
That takes us to the end of this blog in which we have discussed important do's and don'ts you should consider for website navigation. These points will help you to know which type of practices should be used to improve website navigation. It is quite important to keep them in mind as they will prove to be pretty handy in enhancing the navigation and user experience of your site.