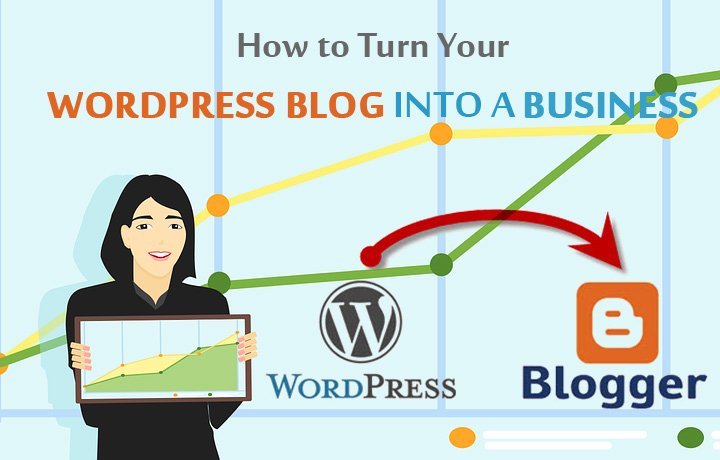 Making money online is the new agenda of the upcoming generation. Its best suited for house-wives, moms and other people who cannot step out to earn. You just need a good professional writing skills and a little knowledge of online marketing.
And that's it!! You are good to go. And believe me; it would be really satisfying when you will have a six digit figure amount dropping in your bank account every month. You can very well turn your blog into a successful business by simply following the strategies listed below. Let's dig them deeper step by step.
Genuine Idea behind your blog

When you are planning to start a blog, choose the idea which would deal with day to day lives. Or, rather Google out for topics most widely searched like parenting, schooling, movies and gossips, beauty, travel, technology etc. Go for something which will attract the audience and tempt them to look for more in your website.

If you cannot write well then it is better to hire some freelancer to do it for you. The main step is to select a perfect platform. I would recommend WordPress for your site. WordPress is indeed the most robust, secure, SEO optimized and flexible platform internet has ever got.

Secondly, after finalizing the idea, look out for WordPress themes that best suit and complement your idea. The next step would be having a good domain name and logo designed. You can have a logo designed for free from various online websites like shopify.

Be careful while selecting the WordPress theme; make sure it is user friendly, easy to navigate and Responsive too. Being Responsive is essential as now a days maximum traffic is drawn from mobile phones. Check out for any legalities involved (in some nations it is compulsory) for the website if any.

Content is the king

Make sure the content you publish in your weblog is 100% original, authentic and unique. As content is the only basic medium to attract the visitors.

Having a fancy website will not work until you have a catchy content. The titles you provide to the articles should be attention grabbing and make sure you provide all the meta information for the SEO.

Also, see that the tagging has been done properly. Tagging is very essential in your posts as it will hold down the visitors to your website for any information related to the article they have just read. They will not have to open a new browser window to search for other things.

Run Promotional Banners and Ads

If your blog is getting liked by people, people will automatically come to you offering their ads or banners to be displayed on your website. You can charge good money on monthly basis from them.

Or, you can also enroll in Google Adsense program. Suppose if you are running a website related to kids, and then certainly you can display ads and banners related to pre schools or baby products.

Go for seminars and conferences

Get paid for appearing in seminars and conferences. You can tie up with some organization and conduct seminars educating the people on the topics of your website blog or educating them about how to make money online. You will get some more subscribers for your blog as well this will increase your popularity too.

You can also attend some seminars regarding blogging and other related events. This may help in fetching some clientage to your blog as well.

Offer your Writing Skills

You can also offer your writing skills to write for some business or other people for their business. Sometimes they may also approach you for your writing or consulting purposes.

If it is happening mark my words, you are going to be rich soon. Lend some of your freelancing services so as to benefit others and add some good amount in your bank account.

Proper SEO

The main factor without which your blog will not mark its presence. Make sure that the SEO of your website or blog is optimized and your posts are rated higher on SERPs. If you aren't having a good SEO, then neither your website and nor the content can be made visible to anyone. Make use of SEO plugins to the basic site.

I will recommend using a plugin so that whenever you plan to switch to a new domain or theme, your On-Page SEO remains the same. If your SEO juice in intact, then you will easily recover the SEO loss even after transition of domain or theme within a short span of time.

Increase your subscriber list

Try to maximize your subscriber list. Place a widget in your blog asking for a subscription email and notify them whenever a new post is published.

Google Adsense may even offer $10 for a single subscription. The more the subscriber list you have, more it will add to your brand Value.

Social Media Promotion

This is indeed the biggest step. You must build a website profile page with the same name on social networking sites. This will add to you brand as well as make you a recognizable figure.

Use some Facebook plugins for Facebook integration in your blog. Here the users can directly login with their Facebook credentials rather than creating new ones (people prefer this method). Even when they leave a comment, their FB picture will be displayed.

Affiliation programs

Join affiliation programs offered by Amazon, Ebay and other major international brands. This will make your weblog gain international recognition. Moreover brands like Amazon have people's trust lying for them, so if you tie up with Amazon, this will certainly boost your business.

There are many plugins available for free. You can pick one for your site from WordPress.com and start earning from every single click made on those advertisements. There are certain plugins available with amazing functionality which will allow you to add the product directly in to your cart from your site.

Create and Sell Goodies and other merchandise

Creating and selling goodies like bottles, pens, t-shirts with you name printed over them will fetch you another good amount and not only this, it will mark your presence notified offline also. You can have a good tagline printed over it or you can also offer customizing services to your clients as well.
Final Words:
Try these tips and I am sure you will soon have a six digit salary dropping in your bank account. The process is slow and gradual. You need to be patient for the course of action to get completed. But the main thing is START RIGHT NOW. Happy Blogging!!!!