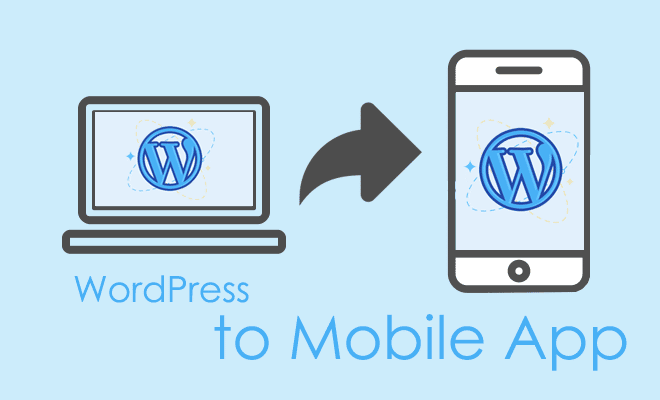 Smartphone users are increasing at a rapid pace. People usually use the internet on their mobile phones/devices which means businesses should ensure their websites are mobile-friendly.
However, even responsive app development couldn't provide such a comfortable user experience as mobile apps. Mobile applications offer a simple way to manage content delivery and increase engagement.
Many businesses already have a WordPress website, but they don't know how they can convert it into a mobile app. Some suitable and affordable plugins can help non-programmers easily build an app with their WordPress site.
What are the various options for WordPress users?
WordPress users can convert their websites into mobile apps using one of the various routes available. The easiest option is to hand your project over to an agency while you do almost nothing.
You would need to research and find out a reputable company in the UAE to ensure smooth working on your project and the best final delivery. Otherwise, you can use tools like AdobePhoneGap to create the application yourself.
Top WordPress Plugins to Convert Your Website into a Mobile Application?
Here are the four best plugins to turn your WordPress website into a smartphone app.
AppPresser

AppPresser allows you to include all the amazing functionalities of your WordPress site in a mobile app. It requires zero mobile app development prowess and just basic knowledge of WordPress.

It offers a cheap way to get your company's app in the app stores and numerous WordPress plugins. It also includes a mobile theme with special features to produce an application for your online store, blog, or BuddyPress site.

It has the highest number of customization options among all app builders. You can integrate WordPress features such as WooCommerce, podcasts, membership, LearnDash, and more with the app.

Android app developers and businesses can create custom pages, add menus, customize colors, and add content. In addition, you can easily tailor your app's design with a visual app customizer and effortlessly set up and manage integrated push notifications.

MobiLoud

Mobi Loud is one of the easiest app-building services and platforms that enables you to turn your site into a native app. Their experts help you at every step from configuration and preparation to app submission and maintenance.

They have two platforms — News to develop apps for WordPress blogs, magazines, or news websites and Canvas for sites utilizing WooCommerce or other advanced plugins.

It automatically syncs all your site's features and content with your app. Other features include push notifications, custom branding, analytics, and mobile advertising support.
Plus, they offer free demos and reasonable price packages.

It supports various software stacks like Shopify, WordPress, PHP, Laravel, and Rails. Typically android app developers take 6 to 12 months to build a native app and charge about AED 180 to AED 370.

Not every organization has this much time, and many startups just can't afford this. MobiLoud helps you release a functional application just like the one built by professionals within a fortnight for a nominal cost.

Androapp

Androapp is a WordPress plugin that can create native iOS and Android applications for WordPress websites. Like other plugins mentioned in this blog, using Androapp doesn't require any know-how of coding.

It enables users to test their applications on their mobile phones in minutes and make money from them using Appnext and Admob ad units.
Other features include offline support, infinite push notifications, various themes, infinite scroll, internationalization supports, and native social sharing.

Moreover, its developer assists users in configuring and installing the app that they can send to the app stores for approval or help from an Android app developer.

The best part is that it allows you to send deep links to guide visitors to the right landing page. And it comes with sharing networks that let you share images on Whatsapp, Facebook, and others via default Android sharing intents.

An annoying disadvantage of Androapp is that the developer can display their adverts if you use the free version.

WPMobile.App

You can make a phone app from your WordPress site using this plugin and submit it to Appstore and Playstore.
It's user-friendly software with a fully-customizable theme ideal for smartphone apps, having 24 customizable shades, 20 widgets, CSS and JS.

WPMobile.App provides three menus — floating menu "FAB," side menu "hamburger," and a navigation tab at your screen's bottom.

It sends innumerable notifications either automatically when putting up content or straight from the WordPress back office.

Your app embeds various systems to improve loading and offer the app in offline mode when no connection is available. Businesses can analyze their app's traffic quickly using its ten key performance indicators.

Furthermore, its app translation feature helps companies to target multiple nations that speak different languages. You can either do it manually or automatically immediately quickly with Weglot.
Bottom Line
Startups and established companies can create mobile apps using valuable resources for developers and users to build exceptional digital experiences for smartphone users. Today, millions of people use smartphones and a mobile app offers a golden chance to reach them.