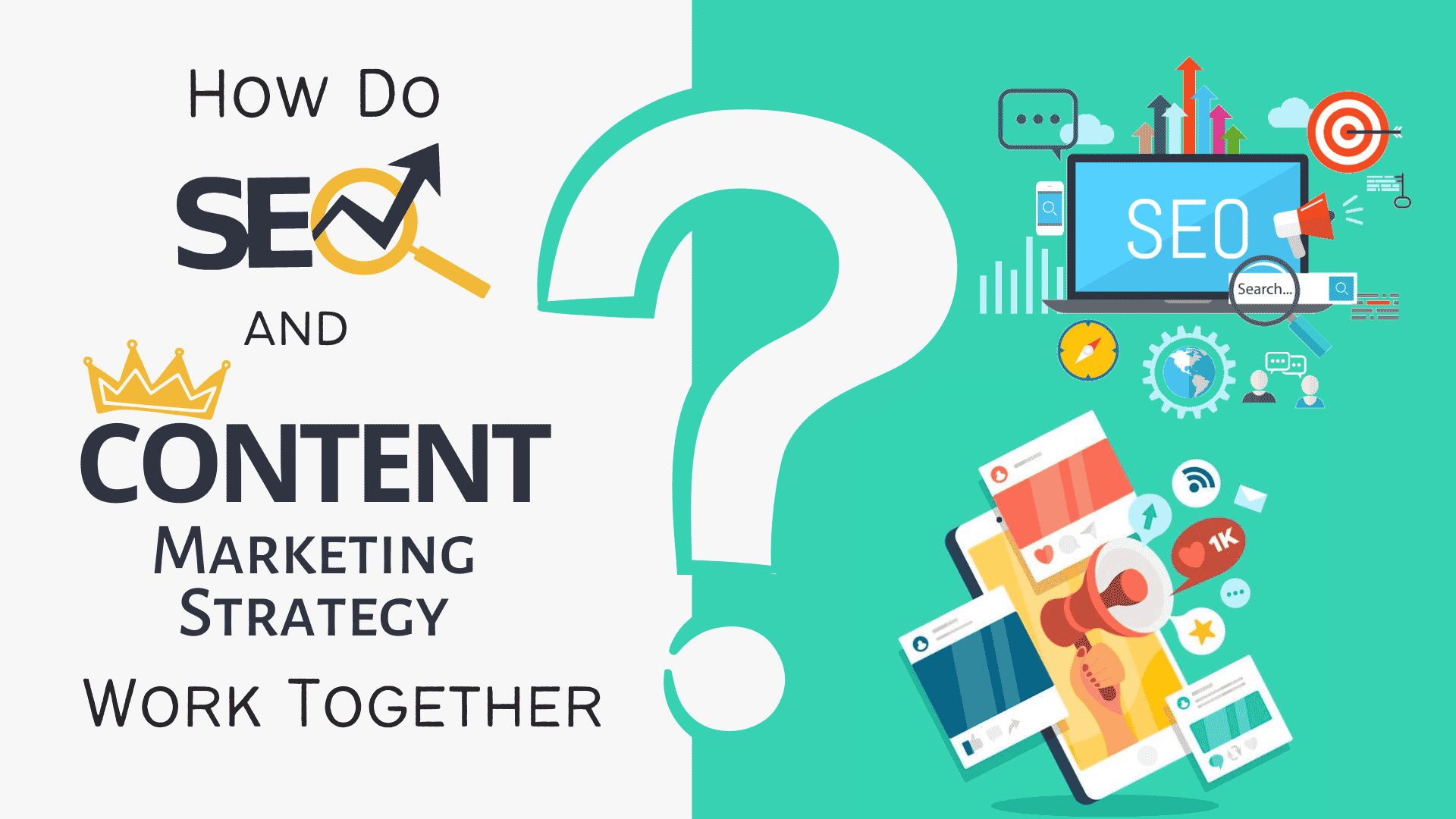 Content marketing is perhaps the most effective way of marketing for modern businesses, especially those with a digital footprint. As a business owner, you would want to show your presence on every platform to engage your target audience, and content marketing gives you the power to do that.
When combined with Search Engine Optimization (SEO), the effectiveness of content marketing can enhance exponentially. And in many cases, a content marketing strategy can go wasted if it doesn't include SEO as its essential part.
But why is SEO so important for a solid content marketing strategy? Aren't they supposed to be two different streams? What makes them so effective, and how can you improve your digital content strategy with SEO?
While improved content quality and organic digital presence are the two main benefits of SEO, there are many other ways in which it helps grow your business and content marketing strategy. This post will examine how content marketing and SEO work together for your business.
What is a Content Marketing Strategy?
Content marketing strategy allows businesses to develop an interest in their products in their potential customers. Therefore, a content marketing strategy focuses on creating engaging content that answers possible customer queries beforehand.
Keeping the current trends in check, the content quality focuses primarily on two elements:
Providing maximum knowledge and brand awareness to the customers.
Adding a flavor of entertainment and trending tools to ensure user engagement
Generally, a content marketing strategy targets a specific audience section, which maximizes its chances of a better ROI. As a result, when the user is ready to buy your product, they are already familiar with your brand and subconsciously have developed a relationship with it.
What is SEO?
SEO is the technical aspect of your marketing content. It ensures that whatever content you create makes it to the top Search Engine Result Pages (SERPs). Whether optimizing your blog posts with keywords or appearing in social media search results, a well-thought SEO strategy will give you better results.
So, when you have a robust SEO strategy working for you, it can help improve organic traffic to your website, which can potentially boost your sales.
Importance of SEO for Content Marketing
Essentially, any content marketing strategy is incomplete without SEO. No matter how informative or engaging content you create, no one will look at it unless you make it to the SERPs. Therefore, when you start any content, you will need relevant terms and keyword research to ensure your online presence.
Simply put, the success of your content marketing strategy depends on SEO and vice versa. For instance, you cannot expect highly optimized content to do well if it doesn't contain an element of user engagement.
So, when your content strategy and SEO sync together, your content becomes a well-versed mix of:
Keyword research
Substance
Backlinks
Meta Tags
Social media
Now that we've covered the basics of SEO and content strategy, let's look at how they help your marketing tactics work together.
5 Ways SEO and Content Marketing Can Work Wonders
The Right Keywords Will Get You Rolling

Selecting the right keywords is one of the fundamentals of building a content strategy. Relevant keywords form the base of an effective SEO. By incorporating them into your content, you can rank your pages higher on SERPs.

But stuffing keywords in any content, whether written or video-based, will not impact. Modern search engines like Google have highly trained algorithms that can pick keyword stuffing. And this can harm your online ranking.

Therefore, it's best to balance SEO and content and avoid over-optimizing. Primarily, if your business is focused on search engine marketing, the SEO strategy becomes pivotal for your success.

So, how can you find the right keywords for your content? One excellent option is to use Google's Keyword Planner. This tool lets you analyze top keywords so that you can pick suitable choices for your marketing content.

To ensure effective use of keywords in your content, follow these guidelines.

Avoid repeating keywords because it negatively affects your SEO
Use keywords in the main title and body section
Don't stuff keywords because it lowers the content quality

Knowing Your Audience

Audience analysis gives you more power as a marketer, and it's critical for startup marketing. Before selling, understand your target audience, their preferences, personas, and backgrounds. Only then will you be able to devise an appealing content strategy for your potential customer base.

For instance, if you are a tech brand offering high-tech devices for gaming, video streaming, etc., a good chunk of your target audience will be the millennials. Considering this, you must establish parameters to develop the relevant content. Find out:

What platforms do they use for gaming or streaming videos?
What computing machines are popular among?

You can add more questions to get to the point where your content hits the bullseye. These parameters should also help you in providing personalized content to the users. This way, they're more likely to buy your products or services.

Besides searching for people's preferences on search engines, conduct a content analysis on social media to understand them better. This analysis will also help you narrow down specific goals so that you can create different content for each.

Suppose you're a new brand in the market. You should focus more on creating video content than written content because of two main reasons:

Video content is more effective in spreading brand awareness.
You can reach more people in a shorter time.

Once you've done that, creating unique ads with engaging content will become easier. Moreover, it will help you plan your marketing campaign effectively for each stage of your buyer's journey.


Source : contentmarketing.io

Focussing on Content Quality

Content quality is a great leveler with SEO. On the one hand, where you pick the right keywords, it's essential to integrate them intelligently to uphold content quality.

Remember, the keywords will only rank your page better so that it appears on search results. Once the user clicks and lands on your page, the quality of content will decide whether they spend time on your website or leave quickly.

Therefore, it heavily depends on the quality of your content too. Of course, creating new content with unique and fresh material will always keep your users interested. But, more importantly, content quality is another critical factor for your website ranking.

When we talk about quality content, it means that your content must be solving a user problem. Interestingly, when you're effectively answering a problem, the keywords fall into place automatically. So, you don't need to stuff or force them into your content.

Compelling content for targeted visitors is another critical factor that weighs heavily in your Google search rankings. So, it's about creating a smooth combination of well-researched content with an appealing style of writing.

Creating Better User Experience

The top content marketing services emphasize user experience. However, it's not only about blogs and keywords. Instead, effective SEO includes optimizing your metatags and using them intelligently in your content.

To create a better user experience, removing any broken links and error codes in your web content is essential. Typically, broken links can put off users and directly affect your search engine ranking.

When you optimize your URLs, it's easier for search engines to find the relevant categories and subpages. Ultimately, the search engine sees a well-planned layout of the website, which means a higher ranking for your page.

Thanks to well-defined meta tags and sitemaps, users can directly navigate to your products or services page from search engine results. In addition, it keeps them from searching for subpages after landing on your webpage. Therefore, it can potentially boost the user experience on your website.

It improves ranking and makes it easier for UX designers, helping them publicize the content conveniently. So, here are a few pointers to help enhance the user experience on your website:

Use appropriate tags to enhance web page indexing on SERPs.
Use simple-to-understand header and title tags in your content.
Include appropriate header tags, and use heading levels like H1, H2, …, and H6 throughout your blogs and articles.

Link Building in Content

Linking to authoritative sites, inbound linking, and linkbacks are critical SEO elements. It's essential to connect your content to better and higher-ranked pages. Not only does it positively affect your SEO score, but it helps improve brand position too.

You can subconsciously build trust with your readers if your content includes links to sites like .edu and .org pages. As a result, you can present yourself as a reliable source of learning through your content. At the same time, links with better-ranked sites will improve your SEO score too.

Typically, you will need a link building agency that specializes in link-building. When you get more backlinks on your web content, you can expect more traffic and, thereby, a positive impact on your ROI.
Conclusion
SEO and content marketing strategy are two pillars of digital marketing. Unless they go together, you have very limited chances of success.
Content marketing focuses on engaging users and targeting new audiences. On the other hand, SEO ensures that you are technically equipped to reach your desired goals. Therefore, a successful content strategy is possible only when you have a comprehensive SEO strategy.
When both work together, you can create killer content that ranks high and attracts more audiences to your business.