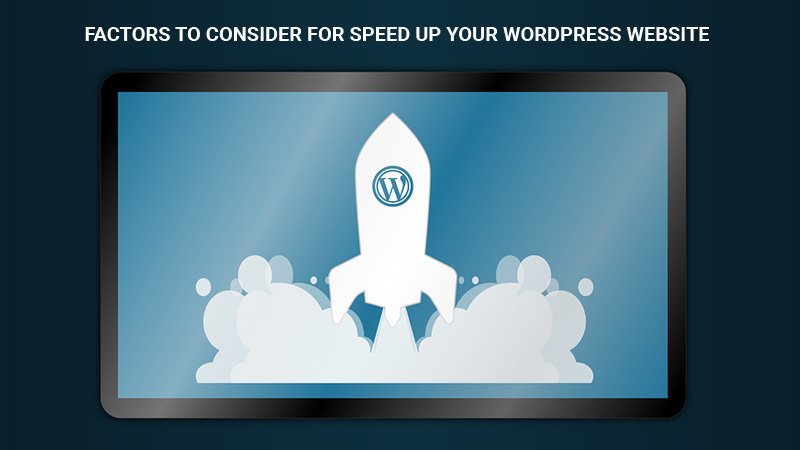 The speed of WordPress website is matters a lot in order to increase traffic or page view of the website, fast loading pages for the user-friendly environment. Being an owner of the website it's your job to attract user towards your site, show your content and convince them to stay on your site. A slow website will lead the user to leave your website. However, speed up WordPress Site is not so easy task. Below are some Tips to boost your WordPress Speed and efficiency of your Website.
Pick a Right Host

The main factor to consider while having the WordPress site is with right host. Don't make any mistake while choosing the host for your website. There are many hosting companies and all offer a different speed. Please choose the hosting service with a good reputation and if possible select the nearest server location, the closer the server is, faster your website works. There are numerous hosting providers like bluehost alternative that you can select from.

Right Choice of the theme

It is very important to select a reliable WordPress theme. A theme with a lot of elements and icons can cause your web server speed and affect the speed of your site. A theme with many dynamic inbuilt features will slow down your site. So be selective while choosing a right WordPress theme with limited of elements and icons.

The best way is to select a simple and lightweight theme. The new Twenty Seventeen theme is a right choice to start a blog. A theme that uses a framework like Foundation and Bootstrap can also be a good theme as they provide a good way to speed up WordPress.

Effective caching plugin

WordPress Plugins are very essential but best plugins are one which falls under caching category which improves the page load time and efficiency of the site. WP.org and WP Super Cache are the best for cache plugin. It's free, easy to install and easy to use and increase WordPress performance.

Optimize Images

One of the common problems we face while surfing is slow loading sites. The poor speed of site will effect to sites search ranking and conversions. Page Speed optimization of the site is the important element to consider for any website. By optimizing, images can improve sites capability and speed. However, images are essential for any website but we should optimize the image to avoid load speed. Smush is one of the best image optimizers that will reduce the file size of the image by maintaining its quality.

Update your WordPress Site

Being an owner of the website it's your job to update your site to the latest version with various updating like the theme, plugins. Doing this will help you to maintain the speed of your site and prevent your site from other issues. WordPress is a frequently updated open source. All updates provide us extensible range of new features as well as are necessary in order to fix bugs and security related issue.

Remove Unnecessary Plugins

While updating the plugins please consider the plugins which are essential and remove the plugins which are not needed. As these unnecessary plugins cause the load time and thus affect the speed of WordPress Web site. Remove the plugins with similar functionalities. It is better to have a few plugins with the same job.As have lots of plugins will result to slow down your website speed.
Conclusion
By reducing a load time of your WordPress Website will improve the experience of your users.so by considering above tips will help you to optimize WordPress Web site.