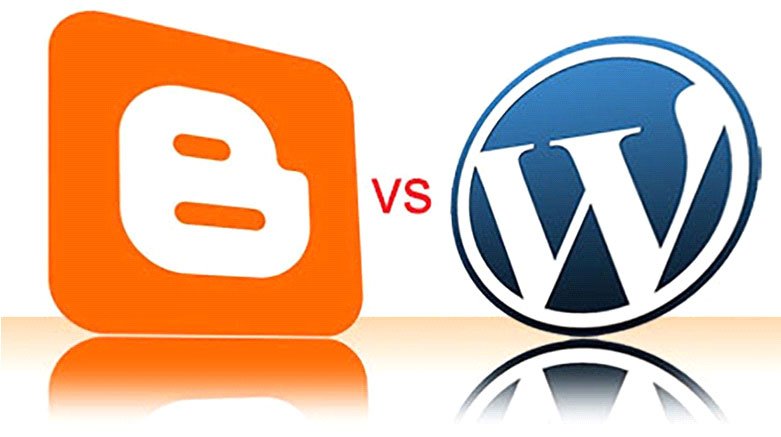 Starting a blog is both time consuming and daunting. For inexperienced bloggers, there's also the learning curve associated with picking up a new skill or hobby. You'll have to learn the tricks needed to make your new blog popular, attract readers and possibly begin to earn some money sometime in the not too distant future.
Firstly, you'll need to choose the platform you'll use for blogging – of which there are many to choose from, including:
Blogger
WordPress
Tumblr
..and many more others.
One of the most talked about topics on the internet is:
Blogger and WordPress: which is best for blogging?
This debate has raged for years, with proponents of both platforms bringing forth tangible reasons for their preferred choice. WordPress users are impressed with its power, features and customisation options. Meanwhile, Blogger users like the fact it comes with very few technical complications.
This debate can become confusing and even rather heated at times, but hopefully, this article will offer a fresh perspective that will help both new and existing bloggers make the right choice when choosing a platform for their new blog.
Please note that this article concerns self-hosted WordPress (found at wordpress.org) and Blogger – not the free WordPress at wordpress.com vs. Blogger.
Ownership
Blogger is a platform owned by search engine giant, Google. It's free and fairly reliable, providing enough space for you to publish your blog online. However, although you are the owner of the account, Google runs the services and reserves the right to suspend or shutdown your account if they feel you have violated their terms of use at any point.
WordPress on the other hand is an open-source CMS that powers millions of blogs on the internet. With WordPress, you'll need to use a web hosting provider to host your blog. Not only are you the sole owner of your blog, but you can also determine how long the blog will run and subsequently be available to view online. Admittedly, the web host company could also shut you down if you violate their terms of service, but this is extremely rare.
Customisation
Blogger is well loaded with beautiful templates, but they are limited in number; however, you can also source some more from third party Blogger template websites, but these are usually of poor quality. You can customise the colours and layouts of your blogger template using the in-built tools, but you can't make extensive modifications, nor have access to the core files. This platform features only limited tools for customising your blog. Apart from what the platform provides, there's not much else you can do to extend the functionality of your blog.
Because WordPress is an open source, there's no limit or restrictions to the modification and customisation you can undertake. In fact, you can fully access the core files of your blog software and change them completely to suit your preference. Additionally, there are many plugins (free and paid) that can be used to extend the functionality of your WordPress blog, as well as hundreds of thousands of free and premium themes that you can use to change the look and feel of your blog.
Migration

Transferring from Blogger to a different platform involves a complicated series of processes; even if you're lucky to move successfully, you could still end up losing your hard earned page rankings, subscribers and possibly a good portion of your blog posts as well. Also, even though Google allows you to export your content, it remains on their servers for a long time to come.
If you're blogging using a WordPress platform, you can easily migrate from one hosting provider to another, without losing any important segments of your site. Furthermore, if you retain the same domain name, you will likely keep your page rankings.
SEO
Both platforms come optimised for search engines 'out of the box'. Blogger has the advantage of being owned by Google, which means that your blog will definitely be crawled by search spiders, although you still have to perform the regular on-page SEO to appear on search results.
For WordPress, you can assist the built-in SEO features by installing any of the many SEO plugins for WordPress. These plugins can automate the SEO process, taking the bulk of the work off your hands. However, it never hurts to have some other SEO tricks up your sleeve. Alternatively, you might want to opt for a more professional approach and outsource to reputable SEO agencies.
Security

Because Blogger is owned by and hosted on Google servers, you can expect the same level of security that the search giant enjoys. You won't have to worry about taking security steps or backing up your blog, as everything is handled by this platform. In fact, if you're looking for a platform where you'll do nothing except post your blogs, then Blogger is ideal for you.
WordPress users will agree that the platform is secure, though there is still the ever present risk posed by hackers. Thankfully, the people behind WordPress are always working on ways to make the platform more secure and implementing regular updates to that effect. However, because you host your blog, you are responsible for installing the necessary updates, putting some security protocols in place and backing up your site.
Technical Support

There are forums and user groups dedicated to Blogger, but these communities are not very active. Even the documentation that accompanies your new Blogger account is pretty basic and will be entirely helpful if you do encounter problems. Additionally, you're not likely to get technical help from Google's staff in the event that you have a problem with your blog. You can only send an email or 'open a ticket' and hope to receive some form of helpful reply. Suffice to say, when it comes to Blogger support, your options are very limited.
WordPress on the other hand has a very vibrant community. There are people working tirelessly to constantly improve the platform and they're always able to find time to help out with any issues you have. Additionally, your web host provider will usually staff in-house experts, whose job it is to help customers resolve any problems on their respective websites.
Putting it together
There are a couple mistakes tech start-ups make. From not using a reliable web host, to not properly understanding how blogger and WordPress platforms work, these lapses can lead to losses in business. That's why it's important to keep the advantages and disadvantages of both platforms in mind. The bottom line is; you can use Blogger as a launch pad to start your blogging career, but if you're really serious about blogging, you'll likely not stick with it, but instead move over to WordPress, where you'll enjoy more control over your business.