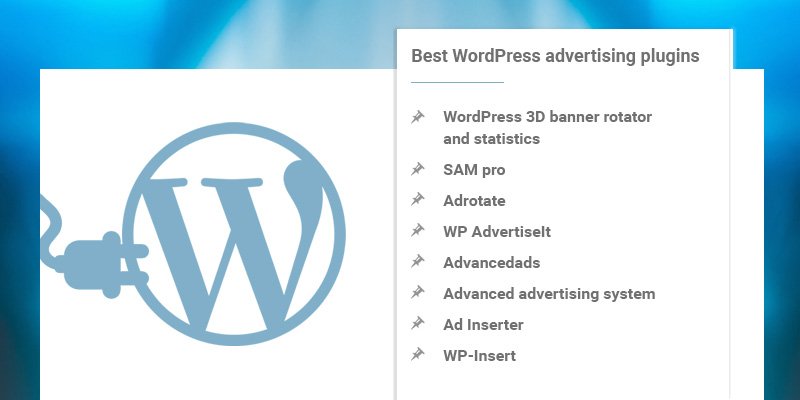 You start a blog and then people start connecting to you. Once you get fair bit of attention then you need to start monetizing things. And for monetizing your blog the best way is to start presenting ads on it.
You can sign up on various ad networks or you can also sell the ads directly. The first option won't be much of a headache to you but the other one will give you better benefits. In this list I have given a list of best WordPress that will help you to manage advertisements.
WordPress 3D banner rotator and statistics
This is one of the most convenient to use ad plugin. Best suited for smaller banners, it fits into your sidebar. 3d banner rotator can be set as a widget into the sidebar or you can even have some short codes to use its functions.
It has various functions that will make the ads on your website more visible to the audience you appeal to. This will give your ads more attention and also the clicking rate will go up.
And hence the purpose of putting up the ad gets fulfilled. The best thing about this plugin is that it will give you all the statistics that you need regarding the ads that you put up on your website.
SAM pro
This plugin displays ad with banner rotation. This uses cherry picking to select the ad that is to be displayed on your website.
You can impose restrictions and rules as to which banner will be displayed or on what basis will they be displayed.
With this facility you can control the ads being displayed on specific pages or you can choose the most famous banners of all with the statistics this plugin allows.
Adrotate
It is one of the most widely used ad plugin in WordPress. You can manage the ads on your website with the WordPress dashboard itself.
You can divide the advertisements in various categories that will allow you to fix the advertisements to various parts of your website.
It even does not allow any ad get off your attention. This will enable you to send an email to you if any ad needs you.
This will help other advertisers to contact you and this even will give you simple statistics regarding your ads. This plugin almost does everything needed to be done in advertising field.
WP AdvertiseIt
This is a one simple solution to all your ad related problems. By using it, you can have third party ads from Google AdSense as well as post ads as per your wish too.
The power that it gives you is that you can block certain types of ads on the basis of their IP address and other such factors. This will give you the rights of ads being posted on your blogs.
Advanced ads
It gives you perfect solution to all your problems that you face while displaying ads. This will help you with the initial ad creation to displaying ads as per your customer base.
Though, the advanced ads have a really good free set of features but the premium version. With the premium version you get the features like having a selling spot in your advertisements and also better ad placements.
This will lead to better attention of your customers and higher clicking rates. This is a perfect investment to make and the potential returns are great.
Advanced advertising system
Advanced advertising is a new plugin in the market. As of now, it has around 1000 active downloads. Being new it has features that will handle your advertising issues very easily.
The highlight of this tool is features like budget threshold, ad-rotation and even multiple ad spots.
The premium version of the same plugin will give you facilities like filtering campaigns and even beautiful statistical charts for you to analyze your advertising campaign.
Ad Inserter
The best thing that it offers you is that it gives you the facility to insert ads at any point in your post. You can divide the code in different blocks, with the free version you can have as much as 16 code blocks.
If you wish to enjoy the premium features too it will just cost you $20. Believe me, seeing the premium features like geo targeted ad display and IP blocking the cost of $20 seems to be nothing.
WP-Insert
With it, you can be assured that you are working with the best plugin in the market. It offers features like free geotargeting. That means that you can display ads to global audience.
This also supports multiple ad networks like Google Ad sense, click bank and many more. Other good features that it has for you are integrated Google analytics, display legal notices and placing an ad in the middle of an article.
No matter with what purpose did you start the blog. Whether, it is your passion or just a way to pass your free time. Once you start getting attention online it is foolishness if you do not start putting up ads to monetize your blog.
This does not mean that you are getting diverting with the real spirit of the blog. It means that you are putting in 100% of your time and efforts to take the blog to great heights and give fresh content to your audience.