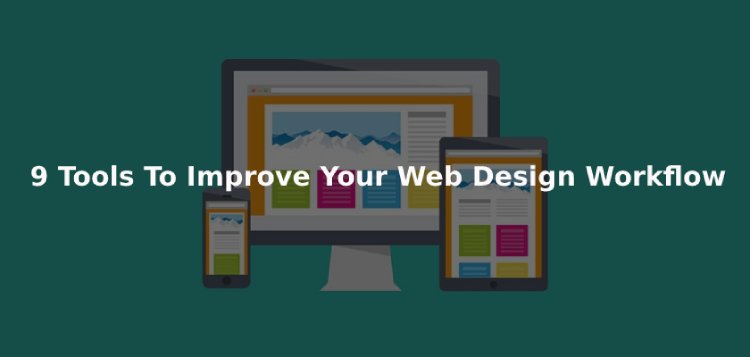 Creativity is certainly one of the key elements of effective and enticing web design. However, let's not forget about another important aspect that is just as important for success: productivity.
Establishing a productive workflow for your web design projects might prove to be a bit tricky, though, especially if you would rather focus on the innovation than the optimization. But it's worth every bit of effort.
By improving your workflow, you'll not only be able to get more work done in less time, but you'll also find yourself enjoying it more, no longer having to focus on the distracting or the tedious.
That being said, let's take a look at the nine tools that can help you improve your web design workflow.
1. Slickplan
The first obstacle you need to overcome with any design project is the planning stage. If you are collaborating with other web designers, UX or UI designers, copywriters, and project managers, things can get confusing quickly.
Slickplan is a great planning tool made specifically for these kinds of web design projects. It allows you to create diagrams, mockups, plan your content and map out user flow from a single space.
The interface itself is drag-and-drop, so you won't have a hard time using it, and it will help you visualize the processes and the website itself.
Instead of sending emails back and forth or using a chat app on top to discuss design, you'll have access to all the data you need in one place, laid out in a very visual manner.
2. Dropbox
However, there will be times when you need to share large files with other people working on the same project. Given the likely size of these same files, email will never be able to cut it. A cloud-based service is called for, and Dropbox offers the best solution on the market.
It will allow you to sync your content in real-time, enable you to access these files at any time and from any place, and you won't have to search for them or wait for someone to send something over.
The tool makes team collaboration and file management easy. You will never again have to think about things like external hard drives and remote access.
3. TimeTackle
In order to manage your projects truly efficiently, you need to know how you actually spend your time. You may think you're working at peak productivity, only to realize you're spending a whole lot of time drafting emails or simply scrolling through messages.
You may be spending more time than you realize in meetings, or you may be selling yourself short and budgeting more time for tasks you're actually very efficient at.
TimeTackle will help you stay on top of your calendar. It will help you audit and analyze the data you already have in your calendar, enabling you to pinpoint the biggest time-wasters and to establish a routine that truly works for your style and habits.
4. Balsamiq
Wireframing is a key step in web design, and Balsamiq is a tool that helps you provide detailed wireframes and the ability to quickly sketch out an idea for a project.
It makes collaboration between different members of a team easy, it helps you control different versions of the same design, and it allows you to run user tests too.
The interface is drag-and-drop, so it's easy to get used to and manage. It forces you to focus on the key elements of website structure and makes it easy to share a prototype with a client or the people you're collaborating with.
5. Sketch App
A vector-based app has its rightful place in the arsenal of any web designer. However, instead of using a mainstream product (such as Photoshop), which is more expensive and comes with a whole host of features that you may not need, why not try a more niche solution.
Sketch is cleaner and more minimalistic, and it allows you to deal with your vector drawings from a less cluttered space. It also supports hundreds of plugins, and you will be able to integrate it with the other tools you're using. It's a great way to reduce costs and design times.
6. Biteable
If you're looking to also feature some animated videos in your design, the tool to use is Biteable. You can make as many videos in it as you want, all of which will be studio-quality and sure to wow your clients and the visitors of the website you're creating.
You don't have to start completely from scratch either. There are free slideshow templates you can choose from, depending on the industry you're working in.
There's also the option of sharing your work on social media directly, alongside the option of incorporating it in the website itself.
7. Canva
Canva is famous for a reason. It not only provides templates that you can take to unimaginable heights, but it's also easy to use and easy to access. As it's a browser-based app, you won't have to worry about anything other than your internet connection.
The features of the tool are practically endless, as you get to resize, crop, use filters, edit hues, colors and tones, and so on. Even if you're stuck for an idea, Canva will offer a template that helps you out.
You can also design practically anything in Canva, and it's already intelligent enough to know what you will most likely need for any given project.
8. Figma
If you're looking for a tool that will make interface design simpler, there's Figma. It has a free option as well as a paid package, and it is compatible with different operating systems. No worries if you're a Mac user, that is.
It comes with an Auto Layout feature, which means you won't have to spend as much time moving things around and getting annoyed by it. You also get the option of plugins for practically anything from stock images to charts and icons.
It allows you to have as many viewers on your projects as you need, so you can share your work with clients and collaborators easily as well.
9. Marvel
Another tool that can help you turn your ideas into reality, Marvel is a clean way of building web pages, which allows you to create prototypes and sketch out ideas and then share them with your colleagues or clients.
You can do wireframes, make your design interactive without the need to code, get feedback and hear what people think about the design, and you can even allow users to test out the site.
Marvel is an easy and fun tool to use with a powerful set of abilities under the hood. You won't have to search for another tool to help it out, and it's great for large teams and individuals alike.
Final Thoughts
Consider adding some of these tools to your web design toolkit. You may be surprised just how helpful they turn out to be.
You most likely won't need all of them, though, so make sure you only start using the ones you actually need. After all, tools you don't use or tools you only use for one or two things are often more distracting than no tools at all. So be smart about your choices, and see how your workflow improves over time.