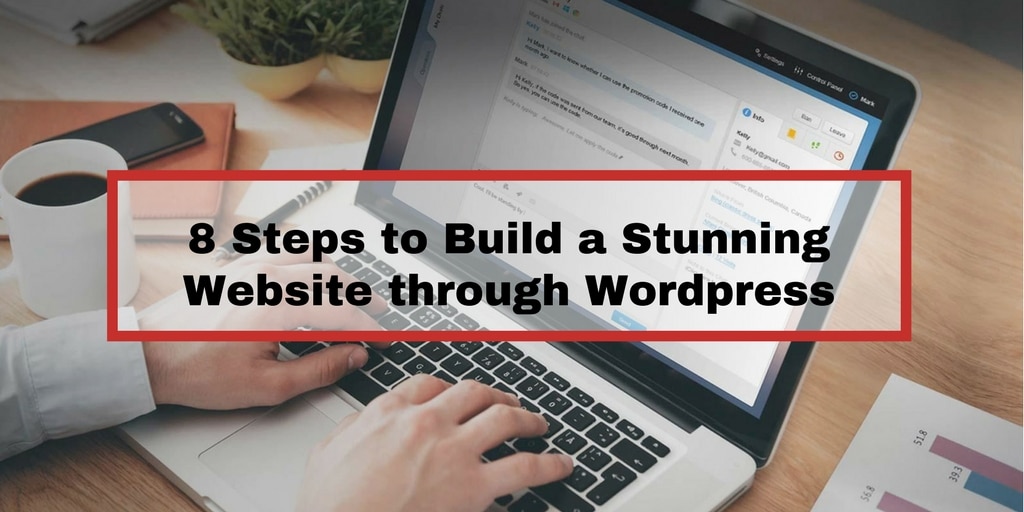 In today's information age, it's very difficult for entrepreneurs to compete with their rivals and find new customers if their businesses don't have an online presence. Not every business owner decides to have a website. It is because the cost of creation, operation, customization, maintenance, renovation and migration of a website to a new platform comes at a great price.
The rapid Emergence of different Content Management Systems has changed the situation completely. Today, you can use your favourite CMS to create amazing websites on a low investment. WordPress is the most used CMS all around the World.
Tech-savvy people use it to create different types of websites and meet the ultimate needs of their web-based business. Do you also want to create a stunning WordPress website? Don't have any idea about how to do it? If yes, then read out this guide.
Choose A Reliable Hosting Service

To run your WordPress website, you need to choose a reliable hosting server. There are many hosting companies available in the market. Here you need to be careful. If you want to make a personal WordPress website or blog for non-commercial purpose, you can choose a free or shared hosting service.

It will help you to save your hard-earned money. On the other hand, if you have a commercial project with a business intention, choose the high-quality premium hosting service. You get sufficient resources to run your website, active technical support from the chosen vendor, and protection from troublesome online security issues.

Pick Up A Catchy Domain Name


A domain name is the address of a website/blog on the web. People use the web address to find specific websites on the web to read the favourite content and deal with famous brands. It has been observed that most people try to book the domain name with .com extension, but they fail miserably.

It happens because .com domain is the most popular domain. Everyone tries to register his/her site with the domain. To get your site registered with this domain extension, try unique words/phrases/keywords that point to your business in particular. If you fail to do that, book domain name with another domain extensions. Make sure your domain name is short, simple, and easily memorable. It must represent the main business message of your brand to the targeted customers.

WordPress Installation

After buying a hosting and registering a domain name, install the WordPress on your system. Always keep in mind that some hosting companies offer preinstalled WordPress in exchange for a few bucks. If you don't want to use that, just install WordPress manually. It is not a rocket science. But, recommendations from a reliable WordPress Development Company should be sought without any hesitation if you are a non-technical person. There is no shame in it.

Just install the WordPress on a local computer and transfer it to the hosting server later on to avoid the possible problems, such as excessive server load, technical glitch in WordPress data, etc. Upload the WordPress files to the server using an FTP.

Install A Good Theme and Necessary Plugins

There is where you need to be careful and vigilant. There are multiple WordPress themes and plugins available in the market. When it comes to WordPress themes, think about your needs in detail. Just review numerous themes from different angles and choose the theme that reflects your message to visitors easily.

Don't use the WordPress theme in its default form as it makes your site look dull and a copy of other websites that have already been built with using the same theme. Customize the theme as per your needs. You can use theme customization services, offered by the companies or purchase the business-centric theme from them.

WordPress offers plugins for almost all features and functionalities. Don't go crazy about WordPress Plugins. Just install selected WordPress plugins that can help you to take your business to the next level.

Create Website Pages

Every website/blog has different requirements and targets. So, they have different pages. But, in general, they have the following pages:

Home,
About us,
Categories/sub-categories,
Privacy policy,
Social media links,
Terms of use,
Contact us, etc.

You should add pages to your website as per your needs and optimize them for the targeted audience.

Add Content to Your Website

Content is an important part of any website. It is your content that can make or mar your web-based business within a few days. A website with high-quality content may rank well in Google & other important search engines and fetch sufficient business opportunities for its owners. So, you must add high-quality and SEO optimized content to your WordPress website. Make sure the content contains the latest information searched by the visitors and is SEO-optimized.

Check Your WordPress Website for Errors

When you create a website with a business point of view, it should be free from errors, like cross-browser compatibility issues, UX/UI problems, loading issues, 404 pages, responsiveness to mobile devices. Google will not rank such websites in its SERP. So, check your website for errors and get rid of them without any fail.

Launch Your Website for the Targeted Audience

By now, your WordPress website is ready to be used by the targeted audience. Just launch it and start your WordPress life. Main continuity in WordPress blogging to get the desired success.
Final Saying
By following the above-mentioned tips, you can create awesome and professional WordPress websites. So, hurry up and get going. WordPress website development services can help you make a good start and obtain success in the WordPress blogging or business enterprise.