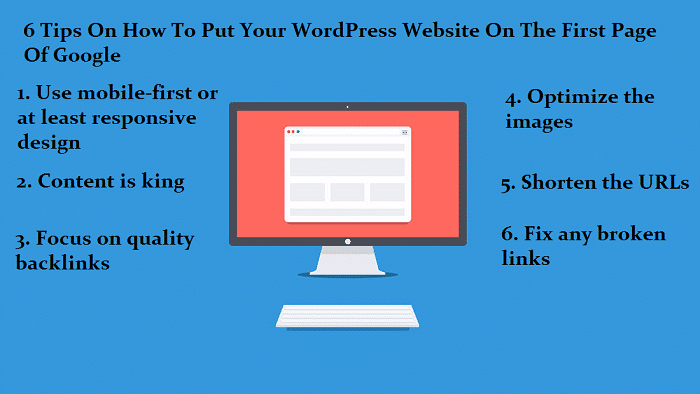 SEO or search engine optimization describes a set of techniques and practices used to raise a website's ranking position in the search engine results page. This is important for several reasons. A high ranking position allows for greater traffic coming towards your website, which translates to better lead generation and in turn, better revenue.
Additionally, people rarely look past the first page of results and view websites which appear in the top couple of results as more credible and trustworthy. Follow these 6 easy tips if you want to have your website placed on the first page of Google's results.
Use mobile-first or at least responsive design

Since more than half of all internet traffic is now coming from a mobile device, Google has made changes to its algorithm to accommodate mobile users. This means that mobile-first and responsive websites have an advantage over traditional, desktop-first websites. Responsive creative WordPress themes design allows you to maintain and update a single website which contains a single copy of your content, which can be viewed on numerous different-sized devices. Not to mention that responsive design offers a far better user experience, which is another key staple in Google's ranking guidelines.

Content is king

Optimization techniques are only effective when coupled with original, high-quality content. Not only does it have to be grammatically and semantically accurate, but it needs to hold value for the people reading it. It needs to provide them with accurate information in order to satisfy their search query. Keywords should never be stuffed, as this will get your website down-ranked or even omitted from the search results. But rather, they should be used carefully and only to highlight the overall theme of the text.

Focus on quality backlinks

Exchanging backlinks with other websites which offer similar content relevant to the topics you're using is vital for placing high in the search engine results page. It is recommended that you exchange links with high authority websites or those with a high ranking position. Furthermore, it's important to link between the pages on your website. That said, you should be careful when doing this and only do it when it's relevant. Avoid linking every single page to each other, this will only get your website down-ranked.

Optimize the images

Images and their names are also one of the factors which influence ranking. This is because Google displays both images and text in its search results, pulling the relevant images contained by the posts themselves, which are further linked to a corresponding page. It is best to use keywords relevant to a particular subject in the file name, instead of using DSC4343.jpg. Just remember to fill in the title and alt tags for all your images.

Shorten the URLs

Although long post titles are perfectly fine, having long URLs for your posts is never a good thing, especially when it comes to SEO efforts. Make sure to use the short version of the post title in the post permalink. Using 10 to 15 words is perfectly fine, however, using more can leave the users with a rather poor first impression. Not to mention that a really long permalink is more difficult to remember than one containing just a couple of words.

Fix any broken links

Having too many broken links is a signal for the search engines that your website is not regularly maintained. If they think your website is abandoned due to the sheer number of broken links, then they might demote it, or even omit it from the search results altogether. There is a number of different WordPress plugins you can use to check for broken links and most of them have the option of marking those links with a "nofollow" designation, telling search engines not to index those broken links, and in turn, down-rank your website.
These are just some of the techniques used to optimize various website elements. There are more available online, and while most of them are easy to understand and use, some may require a little more advanced knowledge. There are over 200 criteria used by Google in order to determine your website's ranking position, most of which can be influenced by properly executed SEO efforts. Just make sure to avoid any "black hat" techniques. They may offer excellent results at first, but you risk getting your website penalized by Google by down-ranking it, or even worse, completely removing it from the search results page.