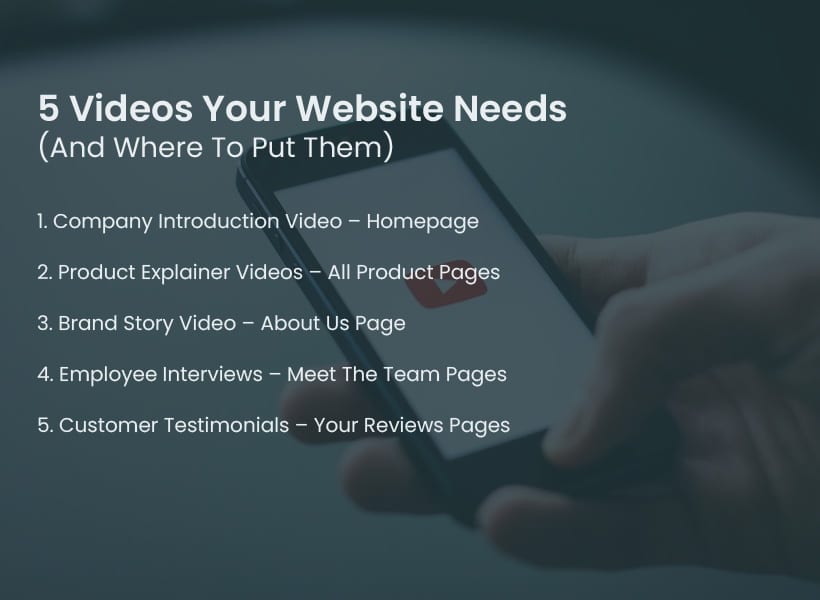 Studies show that video is the most effective format for engaging customers online and making them understand why they need to buy your products.
Research conducted by Insivia demonstrates that viewers retain 90% of a message when it's communicated via video. When the same message is communicated via text, there's a retention rate of just 10%.
This makes video a powerful medium for generating leads, winning sales, and enhancing the user experience. However, you need to use them carefully to guarantee maximum impact.
One aspect of marketing many companies get wrong is video placement on their website and using video content that confuses customers because it doesn't compliment the sales intent of the webpage.
In this guide, we take you through the five types of video your website needs and explain where you should publish them. We focus on helping you maximize your ROI by providing practical advice you can implement in your business immediately.
Company Introduction Video – Homepage

The first type of video you need on your website is a company introduction video. Adding this to your homepage is the most logical choice. It's where the majority of your visitors will interact with your brand for the first time, making it the ideal place to tell your story.

When users can't find the information they're looking for they typically leave your website after just seven seconds. A company intro video is a fantastic way of preventing that.

That said, this only works if your video is well-positioned. Make sure you place the video in the above-the-fold section of your homepage. Otherwise, they may miss it.

A company intro video should give customers an overview of your brand, its values, and what makes it different. It will also reference your main products, including information on who they intended for, what problems they overcome, and why they're unique.

Don't forget to include your branding heavily throughout your brand video. The goal here is to make people remember you. Use a logo animation maker to create 3D motion graphics of your logo and insert them into your video to improve your brand recognition.

Product Explainer Videos – All Product Pages

You may think including product explainer videos on all your product pages is a no-brainer but you would be surprised just how many companies fail to do so.

As the name suggests, a product explainer details what a product does, how it works, who it benefits, and why you should buy it.

If a customer lands on a product page, you should consider them a high-quality lead. They are aware of the product, interested in it, and looking to find out more. Your product explainer needs to provide them with detailed product information while also making a convincing case for why they should buy it.

Research by Wyzowl revealed that 88% of people have been convinced to buy a product or service by watching a brand's video. This shows just how powerful explainer videos can be when executed well.

Take the time to make individual explainer videos for each of your products.

All too often, businesses recycle their explainer videos and use them across multiple product pages. This is not good enough.

Customers will soon catch on and be put off by the lackluster approach. Get your animated product explainer strategy right, and you will reap the benefits. Get them wrong, and you will lose customers.

Brand Story Video – About Us Page

Next up is your brand story video. You should publish this on your About Us page.

When customers visit an About Us page, it's because they're debating buying from you but want to learn more about your story and values before making a purchase. In other words, they want to be sure that your brand shares the same moral and ethical decisions as them

As such, you should consider them a hot lead. Getting your About Us page right could be the thing that tips the scales in your favor.

Brand story videos do exactly what you think – they tell your company's story and express your values. They should cover why you launched the company, the journey you've been on since then, what you stand for, and what your mission is. Perhaps most importantly, they should communicate your brand's distinct personality and offer an insight into your company culture.

The best brand story videos target your company's ideal customer (the people you most want to buy your product). You want your video to win over this critical demographic by convincing them that you share values and are well-suited to one another. For instance, if your customers are particularly passionate about the environment, talk up your green credentials.

Employee Interviews – Meet The Team Pages

Meet the Team pages are a great way to grow your brand and build relationships with customers. They're also useful when it comes to SEO, as they leverage the E-A-T aspect of the Google algorithm that rewards websites that demonstrate they're trustworthy.

Google is looking for proof that your business is operated by real people who have expertise in their field. It's proven to reward sites with more organic visibility that can provide this.

Hence, video interviews with your staff that showcases their background, professional history, and personality is an indisputable way to win-over Google's algorithm.

But the good news doesn't stop there! Staff profile videos also build relationships with customers before you've even spoken to them. They're a great way to warm up cold leads, especially in service industries such as real estate.

Staying with the real estate example, customers often hire the professional they most identify with or the person they feel most comfortable with. Use your employee video interviews to win over customers by being unashamedly you. Choosing a representative is often an emotional decision that can defy logic, use this to your advantage.

Customer Testimonials – Your Reviews Pages

Not all brands put reviews on their websites. Many leave that to Google or dedicated review sites like TripAdvisor. However, we seriously recommend that you include them.

Publishing reviews on your site allows you to control the narrative surrounding your products. You can highlight the reviews that paint your business in the best light. If a potential customer has got as far as reading reviews, they are seriously interested in your brand or product.

Testimonials are the modern equivalent of word-of-mouth advertising. They are supremely effective and having regular people vouching for your product can win a lot of sales. In a Wyzowl survey, 95% of people said that reviews and testimonials influence their purchasing decisions.

Testimonials are most effective when they focus on those problem points that regularly prevent customers from making a purchase. Make a list of reasons why people have backed out of a purchase in the past, frame them as questions, and ask them to your interviewees. Having a real person address your barriers to sale and explain how your product offers fantastic results is a powerful sales tool.

Having reviews on your website also means that your website will rank when someone searches for "[your brand name] reviews."
Closing Thoughts
In today's fast-paced digital world, where attention spans are short and competition is fierce, incorporating well-placed and purposeful videos on your website can significantly impact your success.
By carefully considering the placement and content of each video, you can maximize their impact and create a more effective user experience. Implementing a thoughtful video strategy will not only capture and retain user attention but also boost conversions and enhance your overall online presence.
Embrace the power of videos as a dynamic tool in your marketing arsenal, and unlock the full potential of engaging and persuasive storytelling to connect with your audience in meaningful ways.