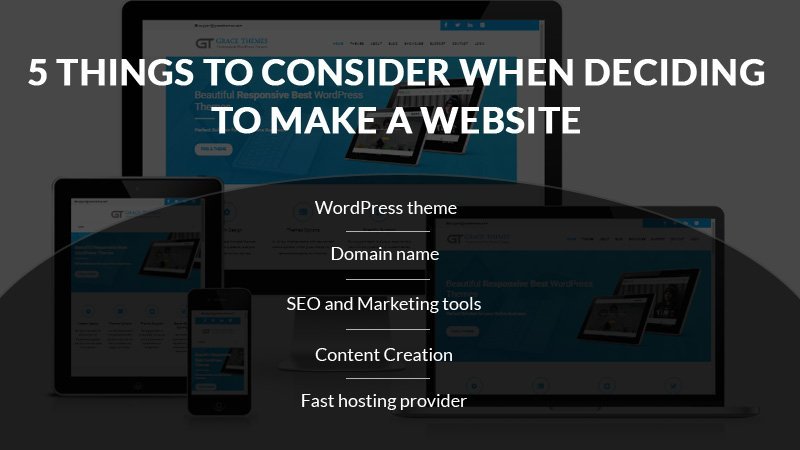 Starting-up a website is one of the many things you do when you want to scale your business in lesser time.
However, a bit of pre-planning is necessary especially when it comes to website designing. It includes WordPress theme, content, SEO tools and so forth. Once you have worked on these things, you are all ready to make a website.
WordPress theme

Getting a theme more depends on the type of website you want to create. For instance, if you want to set-up your WooCommerce store, you are more likely to choose a WooCommerce theme or a mutli-purpose theme that could fit in.

Make sure to find out your business type it could be an agency website for more business, an online portolio for showcasing your work, or a personal blog.

In either case, make sure to select a theme that both fits your business needs and make your blog eye-catchy. Try this page for fast, smooth WordPress themes.

Domain name

Another important thing to look for is domain name. You have to decide a name for your website. While this is one of the things you need to do when you are creating a site, deciding it before always save time.

Choose a name that both shows your business type and easy to read. For instance, if you have a company name ABC and your provide Consultancy services, you can choose a name like ABCconsultancy.com. In case it is unavailable, you can go for a creative name showing your service- BestConsultancy.com or ConsultwithABC.com and so forth.

SEO and Marketing tools

You can always hire an SEO expert for boosting your online business.

However, when you have just started your agency or work, and want to invest a little less, these tools works as the best choices. Another reason to choose these tools is proper planning. Of course, you can choose a company for online marketing, but SEO tools make the whole process a lot easier and provide track-able growth. There are some great SEO tools for powerful growth including Semrush, KW Finder and so forth.

Content Creation

Have you heard- Content is King, if not you might need to know a lot about your website content.

After deciding the site type, you must know the content you would be putting on your site. If you are looking for a web developer- portfolio, you could hire it from outsourcing platforms.

Find out the type of posts you want to include in your blog business. You could either write it on your own or hire a writer for doing the same. There are great platforms out there for this purpose including- Problogger, Upwork and Peopleperhour. These are just some of the best sources for hiring a writer, web designer, SEO agency or almost all of the related work.

Fast hosting provider

Many of the WordPress websites looses a chunk of visitors because of slow loading pages.

One of the biggest reasons behind this is slow hosting. You must decide your WordPress hosting carefully. There are many fast hosting service providers available out there including Siteground and Inmotion.

Fast WordPress hosting not only decrease your loading speed, but also reduce the bounce rate of your website. Make sure to decide a fast WordPress hosting for your new website. It is also important for e-stores where you need to put thousands of products on your website.
Conclusion
You need to make a proper consideration for getting on your decision. While there are many small things you would be looking on for your website, a clean theme should be top of it. This is because the first thing your visitors would be noticing on your website would be your service and theme (or more specifically page design). After this all your need to work on is online marketing and Fast hosting.
Also, a creative website name will always help you with you online business.
So, that was about it! If you aren't sure about any of these steps or want any assistance in your theme selection process, comment below and let us know.