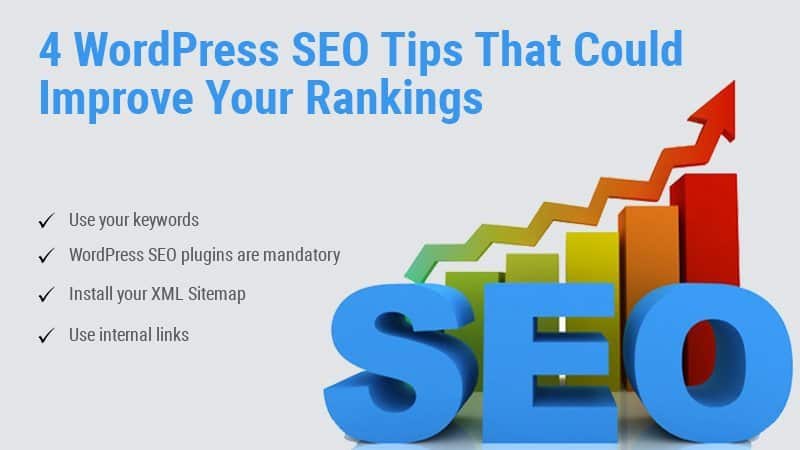 Does your WordPress site have unimpressive rankings, even if everything seems to be okay? Some of your WordPress settings may be preventing you from getting the traffic you should.
This article discusses a few WordPress SEO tips that will improve your traffic and visibility. Don't get caught with your pants down in any one of these six cardinal sins. You'll see your site improving after some time and continuing to do so if you diligently keep at it.
Use your keywords

It is important to have your target keywords within your page name. This is not mandatory, but it earns you a few extra points with search engines. Therefore, pay attention to the URL names that you give your posts.

If you're writing about brown shoes, for instance, a name like www.yourcompany.com/posts/why-brown-shoes-rock will be more effective than www.yourcompany.com/posts/?59422485220 . You can change these settings in WordPress by going to your Permalinks section.

If your site is still relatively new, e.g. you haven't launched it, you can change the default settings so that numbers don't show up in your URLs. Talk to your developer for existing sites.

WordPress SEO plugins are mandatory

There's a host of WordPress SEO plugins out there, from WordPress SEO by Yoast and All in One SEO Pack, which are the most popular, to less popular ones like Inbound Writer and Scribe.

The first two on the list are all-inclusive, which means you can take care of most of your on-page SEO using just a single tool. Other SEO plugins only account for one or two different actions and so you may need several to complete your optimization.

For instance, using WordPress SEO, you can specify your focus keywords (the keywords you want your articles to rank for). This plugin will then analyze your content to see whether you have correctly optimized your content, including giving you a percentage score and analysis report.

You can use this information to resolve different areas and improve your SEO. Such tools can be significantly helpful, especially if you're new to search engine optimization.

Install your XML Sitemap

Think of the XML sitemap as the table of contents at the beginning of a book; it offers a breakdown of pages within your site and tells Google and other search engines the frequency with which content changes in the site.

Without an XML sitemap, Google may not crawl some of your pages and those pages won't be indexed, costing you some traffic. For instance, if you have standalone pages, i.e. pages which are not linked to from any other pages in the site, they will probably be missed.

When creating your sitemap, you should include all pages in the site that you want to be indexed and include information about how often Google should re-index those pages. Static pages, which aren't going to change very often, can be re-indexed every month or two, but dynamic pages must be set to re-index more often.

XML is a markup language just like HTML. You can use plugins that can help you to generate XML sitemaps or use WordPress SEO plugins which include this capability. If you have a lot of video content in the site, you should also construct a video sitemap.

Use internal links

Optimizing your on-page elements only makes up a portion of international SEO practice. It is important to work to get both external and internal links to the content. External links should be earned from high-authority domains within your niche and must not be bought or exchanged in order to be effective. These make a huge contribution to ranking factors.

Internal links also serve an important role and should not be ignored. It is good to share links to old and relevant content from older posts in your site in order to increase the likelihood of your visitors staying on your site and consuming more of your content. You can find related content pieces by performing a simple Google search as follows:

Subject/keyword site: www.yourcompany.com

e.g. brown shoes site:www.forevershoes.com

You will find all content pieces related to your keyword or subject and you can create links to these pieces in two ways. You can add them as related articles under related content in the middle of the piece, or append relevant links in the content body describing certain points you're making, just like you do with external links. Internal links don't have as much equity as external links, but they are important for reducing bounce rates (when visitors leave your site after viewing one page) which contributes to SEO.
Conclusion
WordPress SEO is simpler than you think, particularly if you have the right plugins and tools at your disposal. The best thing you can do is to carry out proper keyword research and be sure that you're targeting the right keywords in every post and page.
You should see your ranking improve in leaps and bounds if you pair this with consistent sharing of high-quality content.