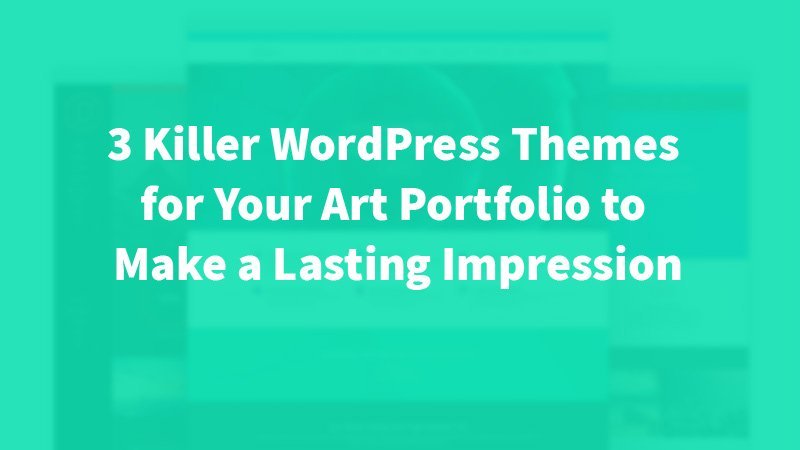 Want to show off your artist portfolio online? Good idea!
When a potential buyer or client goes to your site, the first impression really counts. This is true of any trade but especially important if you're an artist who plans to display their portfolio online.
If your portfolio is in WordPress, you'll have to consider the theme that will show your work in the best light and attract more business. You only have a few seconds to capture the attention of your viewer and allow your art to speak through your website.
Your WordPress portfolio should be visually stimulating and indicative of your style of work, but it also needs to function well and be user-friendly.
At the same time, you will also want to make sure your site and brand stays away from free wp themes. These can often be loaded with harmful links or leave open gaps and vulnerability into your own site.
So how do you find the theme that works perfectly for you? We've got you covered.
Read on the learn about 3 killer WordPress themes for artists!
Divi

If you're already using WordPress, chances are you may have already heard of this theme. While it can cover a wide scope of industries, it's a great one for artists and shouldn't be overlooked just because it's popular.

With the Divi theme, you have the choice to build your own look from a drag and drop builder or you can use one of the over 20 pre-installed templates to get started.

This is a great tool if you want your site up and running quickly and don't have the time to build your theme out from scratch.

Divi has a clean and aesthetically appealing look that allows you to customize how your portfolio is viewed. You can build a gallery, grid or display your work on a carousel that highlights the work once the users' cursor hovers over it.

This is a fail-safe option for those who are just getting started and want to keep their theme simple.

Dorsey

This is perfect if you want the art itself to really stand out as opposed to any information or text you may build into the site.

The navigation menu will appear on the left, leaving plenty of room (almost half the page) on the right for your art. This will be the first thing people see when they hit your site.

When the cursor hovers over the art you have displayed on your homepage, an arrow will appear, allowing them to click through more art and see your portfolio with the simple use of a back and forth arrow.

The menu on the left can be reserved for ways to contact you, pricing, and other information.

Uncode

Depending on what kind of artist you are, Uncode works to fulfill your needs and can be tailored based on your medium.

There's an option to hide your menu so the page appears clean with images and you have various fonts, sizes and SVG logo available to you.

There are also over 30 demos available for new users so you can learn to navigate and build your page quickly.

You can have your homepage be one large photo, displaying your work or use a picture collage maker to compile several images of your best pieces.
Select the Best WordPress Themes for Artists Today
With the 3 options above, you'll be well on your way to selecting the best WordPress themes for artists.
You can show off your work and build a site that is indicative to you and your style but also allows users to navigate easily, attracting more business.
Contact us to help with your theme and be sure to check out the rest of our blog for more WordPress tips.