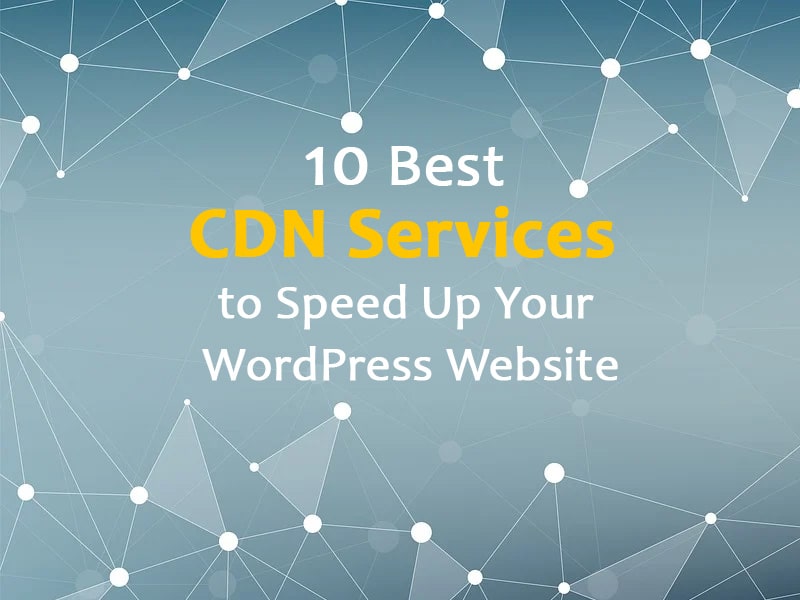 A WordPress CDN or content delivery network is a mechanism or technology that helps JavaScript, images, components, and videos load much faster.
Nowadays, users tend to prefer a more fast and responsive experience. The loading time of the site has become more important than ever.
You users will immediately hop on to your competitors' site if in case he/she finds your website not quick enough.
Additionally, Google also doesn't like a poorly optimized site, so you won't probably get higher search engine rankings with a slow website.
Looking for the best way to minimize the risk of losing search engine rankings or customers? Well, using a CDN service would ensure that you don't lose any of your customers by giving your website a speedy performance in the digital world.
A CDN follows an innovative approach. It saves your site's content to its servers and instantly gives the user your files from a server that is located near to him/her. This drastically reduces load time and maximizing efficiency.
So, now it is pretty much clear that you need a CDN service if you want to speed up your WordPress site. But how can you choose a CDN service?
What are the prices? Are they free or paid? (Obviously paid) and what are some of the best CDNs available out there that you can leverage right now?
Today in this blog, we're going to answer all of the questions mentioned above, and we're going to uncover some of the best free and paid CDN services.
So, without any further ado – let's start.
What is a CDN (Content Delivery Network)?
Before digging deep into the world of WordPress CDNs, let's understand CDNs through a definition. Generally, CDN or Content Delivery Network is a cluster of servers.
These servers are located around the globe, and they're designed to deliver the files of your website to your audience in the fastest time.
The clusters of servers worldwide are near to the user regardless of wherever he/she is searching from.
The nearby located server then dispatches your website's files, data, and JavaScript in the fastest time, enabling your WordPress website to boost loading time.
Should You Really Use A CDN Service?
A new website is generally lite and has one source of origin. This phenomenon is perfectly fine, considering that you're just starting up as an online brand. As we know that websites are the best business model we have to maintain it as good as possible.
As time passes, your site will start attracting more traffic and audience. More complex functionalities and features will be added to your WordPress website.
And as the internal pages, growth, and traffic increases, the website's loading time will also increase. This increase in loading time can affect your business's online performance.
It's a fact, people don't like waiting today. They know that thousands of other websites can look out for if a specific website's user experience is not meeting audience expectations.
In fact, an increase in loading time can potentially cause you millions of dollars if you don't get it fixed or ensure optimum performance online.
And this is the part where a CDN comes into play. The server-based service enables your website to load faster. Hence, it decreases loading time and gives your audience a speedy experience.
Now that we're all done with the most crucial aspects of this article, let's discover the free and paid CDNs.
The Top 10 Free/Paid CDN Services
CloudFlare CDN

Cloudflare is the most popular one in the CDN category. This is a service that you can easily leverage for your WordPress website.

Cloudflare is backed by a massive data center network of more than 34 centers worldwide, which makes it easily one of the best CDN services provider.

One amazing aspect where Cloudflare stands out is that besides just speeding up your website, Cloudflare also provides security to your website.

Cloudflare builds a protective layer around your website that protects it from potential hackers and attacks. Another USP of CloudFlare is that they have a dedicated WordPress plugin.

This plugin can easily be integrated with your WordPress site to ensure maximum speed and security at the same time.

Photon CDN

Photon is yet another powerful CDN services provider for WordPress websites. Photon also has its own plugin available for self-hosted WordPress sites and is a part of the Jetpack Plugin.

Images by far are the most difficult to load when the user is on a website. Photon realized this and leverage WordPress's global service to help reduce the loading time.

Your website's images are served through WordPress.com global service, and this exponentially increases your loading time.

Moreover, the plugin and service are extremely easy to use and understand. All you need to do is to visit the Jetpack dashboard and hit the activate button for Photon, and you're ready to go.

SwarmCDN

The Swarm CDN is a paid service; however, the payment you'll invest in increasing your WordPress website's speed won't go in vain with this marvelous CDN.

SwarmCDN offers 250 GB of free transfer, which is remarkable, plus all of the other services of the platform are exposed to you for free. Also, SwarmCDN generally focuses on making your videos load faster.

Another outstanding feat of SwarmCDN is that their data centers are located in 196 countries globally. The service also offers you unlimited free storage for your files.

Moreover, the service is available for trial on their website for 30-days. After trying their service, your website will be faster than ever.

Incapsula CDN

Incapsula is a free CDN service provide well known for its quality of services. Incapsula also has paid plans for its users, but there's a free plan available to leverage.

Along with a CDN service, the platform also gives you some other amazing services such as spam protection, access control, login protection, data security, and much more.

These services help make your site immune to malware, spambots, attacks, and breaches. Moreover, I believe that their free plan is best for personal bloggers.

However, as the sites start to grow, you'll be needing a paid plan to ensure more effective services.

Their WordPress dedicated plugin enables you to get the correct IP Address information for the comments posted on your website.

AWS CloudFront CDN

The entrepreneur of innovation has also made this list with its highly effective and result oriented CDN service.

Amazon Web Services is a pioneer in bringing modernized and performance-oriented cloud computing to the world of technology while ensuring low cost.

One of the many services Amazing offers, one such is Amazon CloudFront. This is their version of the content delivery network used by some of the most well-known platforms like Slack and Spotify.

Other than this amazing feat, they offer free usage of a full year with 50 GB of outbound transfer. These traits make this CDN service worth a shot.

Google Cloud CDN

Another tech giant, Google, has also stepped into the CDN world with its speed redefining CDN service.

Google Cloud CDN offers $300 credits over a one-year duration and easy access to their Cloud CDN platform.

With the one-click solution available for the CDN service, you can easily deploy WordPress across multiple cloud providers.

Microsoft Azure CDN

Who doesn't know Microsoft, right? These guys are immensely famous because of their simple yet powerful operating system 'Windows' which is feature-packed and super-innovative.

Microsoft also stepped into the CDN service providing world. Currently, they're offering a free 30-day trial along with $200 worth of credits.

The Azure CDN is one of the best out there, and there's no doubt that this CDN service provider is also in a league of its own with multiple data centers across the world.

Cloudinary CDN

Cloudinary is the perfect platform for you if your website is all about heavy images and files. For example, you're a photographer, and sharing delightful photos on your website is what attracts the audience.

Here, Cloudinary CDN has the capabilities to support your WordPress with its innovative load distribution technology and saving of a lot of precious bandwidth.

Along with speeding up your WordPress website, Cloudinary, a robust image management solution, hosts your images, resizes them on the fly, and provides you with several other amazing features.

Moreover, in their forever free plan (which is actually free), they're offering 2GB storage along with 5 GB of bandwidth. So, if you want to maximize the deal, there are paid plans available too.

Imgur CDN

Imgur CDN is yet another highly famous and trusted CDN services provider known for its quality and effectiveness.

The Imgur CDN provides the users with amazingly fast image hosting services that are fast, reliable, and the perfect choice for those new to the WordPress CDN choosing the world.

My recommendation would be to go for a free and lite plan when your WordPress site is new, and this service is the best for beginners so, I would prefer this for your WordPress website.

jsDelivr

jsDelivr is a free and publicly available CDN. However, free doesn't mean that it doesn't offer amazing functions and specs.

Th jsDelivr is one of the best choices among the developers, and it gives them the ability to upload and host their files.

This CDN is also the perfect choice for hosting those libraries that are not being hosted by Google.

Moreover, you can also download and use their WordPress plugin that hasn't been updated for quite some years. However, it still harnesses the power to easily integrate into your website, making it faster instantly.
Over To You
That's all, folks. Now you have a good grasp of all of the WordPress CDN services available for you either for free or paid.
Whether your WordPress website is small or massive, having a clear concept of which CDN service would be best for your WordPress site according to the site's growth stage would be the key here.
Also, it doesn't matter whether you're using a free CDN for your site at the moment. The platforms mentioned in this article offer flexibility in choosing a paid plan whenever you feel like it.
So, whether you're going to select a CDN or not, I would say that speed is perhaps the most critical aspect of your website, and you should keep it in check.
Today, search engines and your audience both prefer a speedy loading time—nobody likes an old, lagging, and slow website.
So, if you want to speed up your site, selecting one of the CDN mentioned in this list would be the best move.